Foxin Twins is a silly video slot release that's expected to debut on 16 May – coming with some serious wins. The game features the famous Fox character, who's already appeared in the other
Foxin series. This time, he appears to be more flamboyant than ever, reminding us of a sophisticated business person and the symbols depicted on the reels don't do anything to steer us away from this vivid picture!  
Foxin Twins Slot Summary and Game Preview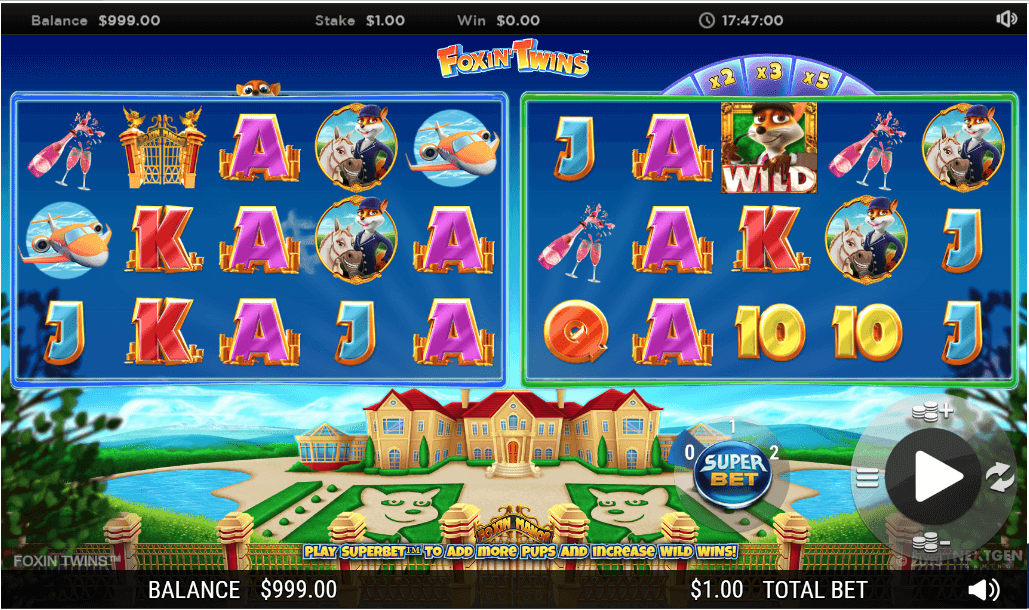 Foxin Twins Slot game is from NextGen Gaming

The game has an RTP of 96.70%

The structure of the game is 5 reels, 3 rows and 25 paylines that are fixed

The volatility is high – much more like the other Foxin' Wins Slots

The maximum win is set at 20,000× your bet
About Foxin Twins – Nextgen Gaming Slot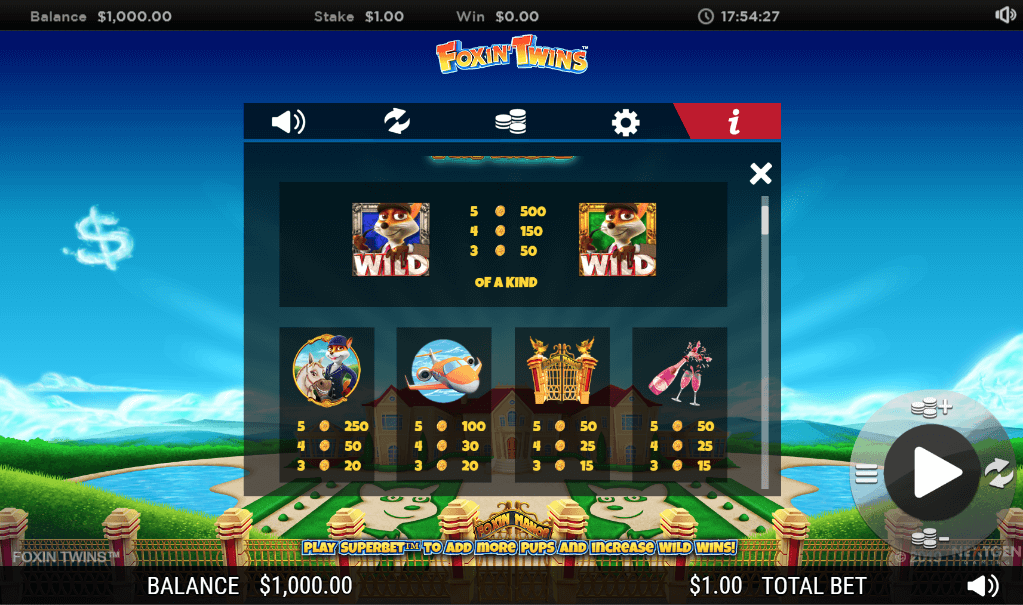 WildTornado Casino has a soft spot for games with animals, but even if you don't like these furry animals, you should give Foxin Twins Slot a go. First off, the game looks awesomely fantastic, featuring super slick animations and crisp graphics – the ones that we have come to expect from a NextGen slot release. NextGen has chosen to retain Foxin – our quintessential billionaire – and this time the producer has given him a sexy companion. Standing majestically in his suit and a hat alongside his companion, they stand proudly in front of their mansion – the Foxin Manor. It's a sight to behold.
Foxin Twins Slot is a high variance game, which means that the wins are incredibly rare to come by. This makes Foxin Twins a perfect game for both high rollers and beginners. However, since it has a high RTP of 96.70%, it's a game for anyone who fancies to bet big aiming for the big wins.
If you are having a rather slow or boring day, then the upbeat and cheery music by Foxin Twins Slot will get you woken up. Just open the game and enjoy the soundtrack that's cheery enough to make coffee on a Monday redundant!
Foxin Twins Slot In-game Features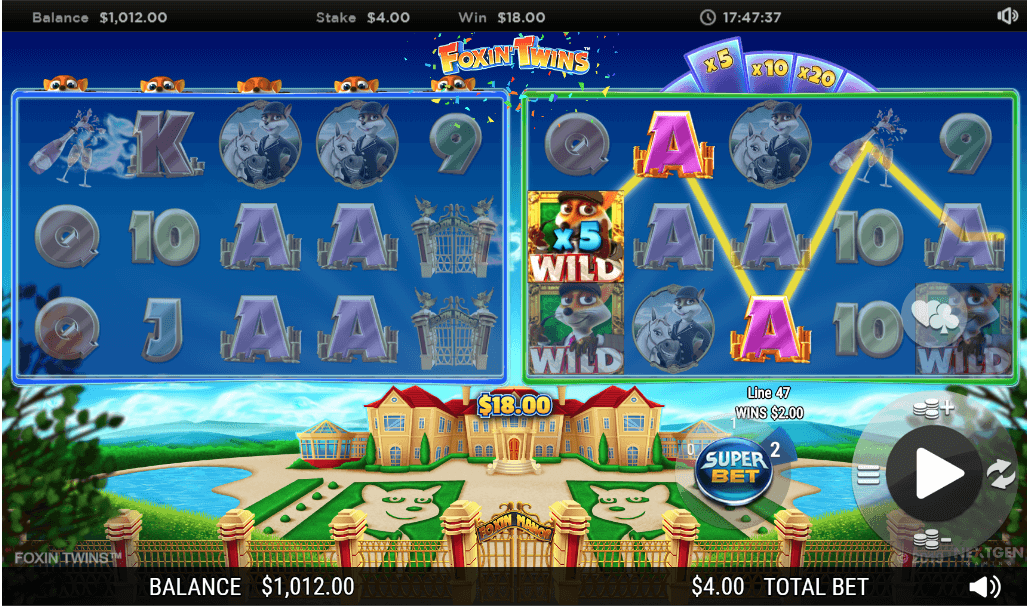 There's more that meets the eye in Foxin Twins than the fancy name. The game offers multiple bonus features that ensure you enrich yourself throughout the game. They include free spins, multipliers, wild substitutions among others. However, the outstanding extras in Foxin Twins Slot are the SuperBet and Dual Reels features.
Thanks to the Dual Reels feature, you can now enjoy double action from the Foxin Twins. This is a feature that NextGen Gaming has introduced to bring in two 5-reel screens and more winning opportunities. It is here where the SuperBet and two random features take place as described below.
Through the SuperBet feature, you get to choose whether you'd like to spend some extra cash in return for more wins. The SuperBet feature is divided into three categories:
SuperBet Off: This is the lowest level and requires you to spend 25 coins. In return, you receive an extra wild on reel 3 and 2x, 3x or 5x multipliers

SuperBet Level 1: It's the second SuperBet level that will cost you 50 coins to play. In return, you can land wild on reels 2, 3 and 4 as well as being able to receive multipliers of 3x, 5x or 10x

SuperBet Level 2: This is the highest SuperBet level that will cost you 100 coins. In return, you can land wilds on reels 5 and multipliers of 5x, 10x or 20x
Random Features
Besides the SuperBet feature, there are also two random features that come into play. They include Little Wild and Gone Wild random features. Together, they'll introduce wild symbols on the reels as well as multipliers to increase your payouts.
Free Spins Game
With double the reels, you'd expect double the excitement, right? That's exactly what Foxin Twins offers in their free spins game. Unlike in the previous versions of the slot where you could only receive up to 10 free spins, Foxin Twins Slot enables you to receive a minimum of 10 free spins up to a maximum of 100 free spins. That's not even double the normal, but 10x the fun and rewards!
Play Foxin Twins Slot on Mobile
As usual, NextGen Gaming has made the Foxin Twins slot available for mobile play. You can play this game on any mobile device that supports a browser thanks to the HTML5 technology used to develop this game. Through this, you can play Foxin Twins free slot wherever you are.
Care to try Foxin Twins Free Slot at WildTornado Casino
We, at the WildTornado casino, expect Foxin Twins slot game to be a banger! Offering twice as many in-game features and a massive mansion, this sequel to the popular Foxin Wins series of slots will indeed be a winner. And in case you didn't know it, there will be Foxin Twins free version, which is a perfect alternative to any player who even after reading this Foxin Twins slot review is still not sure on whether to play the game or not! The free version includes all the real money features – only that you cannot win any real money.