Where Lucha Legends Inspiration Comes From
When it comes to Lucha Legends – the new game that has recently produced the fortunate $88, 554 winner at WildTornado, undoubtedly, it is yet another big name in Microgaming's famous portfolio. The game is dedicated to the spectacular and vivacious wrestling style, Lucha Libre. For those uninitiated by the notion of this cultural phenomenon, we will explain it shortly.
Lucha Libre is a "free flight" wrestling style that sprang to life in Mexico in the dawn of the 20th century and very soon gained great popularity among sportsmen. Its inherent characteristics include wearing colorful masks by wrestlers and performing aerial maneuvers while making attacks. The fighters, otherwise known as luchadors, virtually fly in the air during the whole match showcasing the supreme complexity and sophistication of their art.
It comes as no surprise that the intricate wrestling style of Lucha Libra won the hearts of jaw-struck spectators around the whole world and made it into movies, theaters, and, of course, several video slot games. It is also no wonder that Microgaming derived the inspiration for their wrestling-themed slot from daredevil luchadores, and the result of it does not disappoint whatsoever.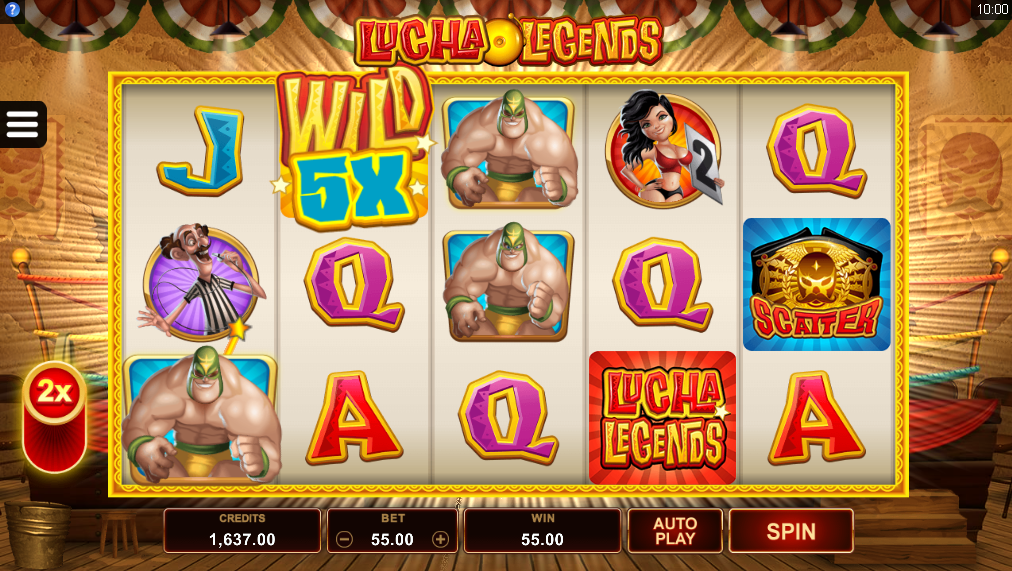 Lucha Legends is a wonder at creating the mood of vivid excitement, lightness, relaxation, and amusement. The game proves to be such a mood booster, especially on the gloomy November days when a dose of cartoonish brightness is so much-needed medicine. Stunning graphics and sophisticated animations the game is filled with make you fully immerse into the Mexican world of glorious fighters.
We are taking our hats off to the technological prowess of Microgaming's developers!
Game Set-Up
Microgaming transports their charming luchadors onto a 5×3 reel configuration and gives players a chance to benefit from 25 pay lines. Betting starts from a low of $0.25 and climaxes at $37.5 per single spin. However, if you opt to switch to the Power-Up Mode, your wager will automatically double along with the chances to increase the power of Super WIld as well as its presence on the reels. We will touch on this mode in more detail in the "features" section, so keep reading.
Features
There are plenty of in-game features that will work together to help you win big! They include the following.
The Super Wild Feature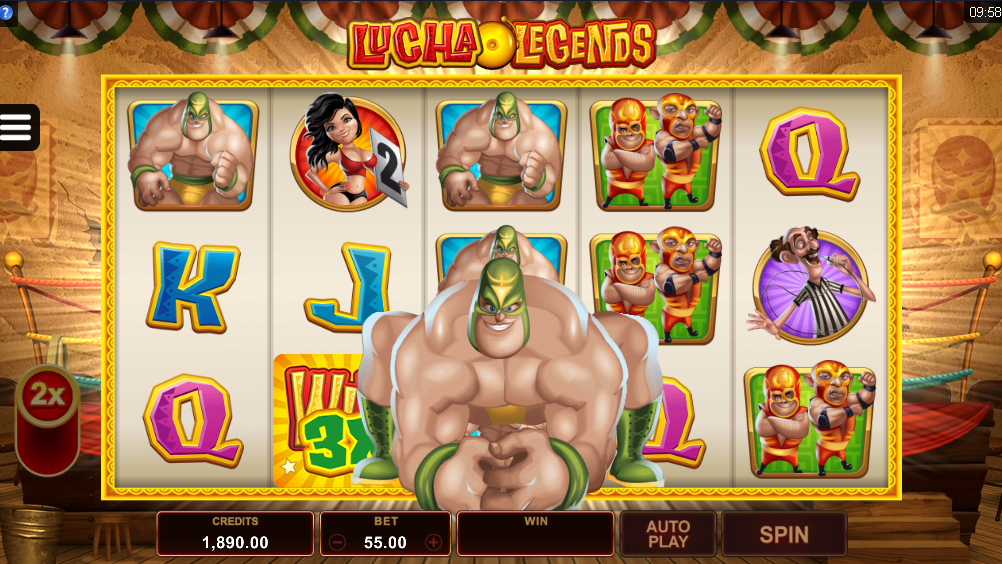 The game boasts the Super Wild feature, which is triggered randomly during the base game. This feature either yields a 2x or 3x multiplier attached to the winnings or rewards with 2 additional wilds.
Wagering twice as much compared to what you bet in the main game will help you tap into the considerable upgrades of the Super Wild feature. To benefit from such upgrades, you simply need to activate the Power-Up Mode. As soon as it kicks in, you receive either of the two gifts:  3x / 5x times your wager or 4 extra wilds. What is more, Super Wild will pop up on the reels more often.
The Free Spins Game
Luckily, the game features a free spins bonus round. 10 freebies spring to life once three scatters (wrestling belts) turn up in sync on reels 1, 3, and 5. Furthermore, the landing of 3 more scatters during the feature results in a free spins retrigger.
There are two aspects of the freebies bonus round that make a significant difference to the game. Firstly, reels will eagerly embrace more premium symbols landing in stacks. Secondly, and most fantastically, whenever a wild turn up, it will prompt the activation of a Super Wild. As a result, your chances of triggering an up to 5x multiplier or up to 4 additional wild symbols will grow exponentially.
Payout
A great thing about Lucha Legends is that any wrestler (5-of-a-kind) on the ring can reward you with 12x the wager. Further to this,  should you unleash the maximum power of Lucha Legends, be sure to rake in the awe-striking riches – $165,000 your stake per single spin. Not to forget, it may happen only in the Power-Up Mode of the game. Otherwise, in the base game, you can count on quite a mediocre trophy –  960x your wager.
Lastly, the 96.38% RTP doesn't fail to add to the ardor of sinking your teeth into this vibrant slot game.
Verdict
Lucha Legends is nothing but an explosive cocktail of sizzling action and rewarding features. Everything seems to be in place in this game, which makes it one of the worthiest releases in the cold season of 2018.
Dare to put on a mask of a luchador and show off one of your high-fly slot maneuvers to ultimately gain the winner's belt in Lucha Legends! This game and a plethora of the trendiest titles in the field can be found at WildTornado.
Good luck!