A step-by-step guide on how to make it into the list of poker champions! For everyone!
This is an unbelievable story of a woman, whose knowledge of poker, 9 months before winning the PCA National Championship – a huge event in poker, boiled down to "I watched Rounders."
Well, it's crazy, isn't it? The woman in question skillfully outperformed 290 (many of whom were pros) players to scoop the top prize of  $86,400, in addition to the so-called 'Platinum Pass' to the prestigious PokerStars Player Championship. This means in January 2019, she's going to be seated with the pros in this internationally renowned poker tournament, which has a $9,000,000 prize pool, plus awards a staggering $1,000,000 prize for the very best winner.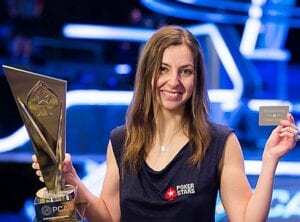 Let us introduce you to Maria Konnikova, an authoress and journalist who writes for the New Yorker magazine. At WildTornado, we can't help but take our hats off to such an outstanding achievement!
How did she pull such a feat?
How it all began
In the spring of 2017, Maria decided that she's going to learn how to play poker. And to learn the basics and tips and tricks of the game, she chose a top-notch poker pro, to be her mentor. She needed this kind of experience for her coming soon book.
As a Ph.D. holder in Psychology, the curious journalist was digging deep into the subject of what plays the biggest role in reaching success in life – skill, luck, or chance. This is how she came across the book Theory of Games and Economic Behavior. After reading the book, she realized that poker is a breeding ground for mastering probabilities and exploring the skill vs luck effect.
So the die was cast! She would take a leave to immerse herself into the realm of poker, and as her teacher, she would choose not just a good or even great poker player, she would choose a legend of high stakes, Erik Seidel.
What Maria learned in less than one year
Maria considers her psychological prowess as a significant advantage in the game of poker. She also considers herself an outsider. This, on the one hand, stacks the odds against her due to a lack of experience. On the other hand, it gives her an edge over other pros because her set of attitudes is different. If we must say it, in the game of poker, Maria is a woman, a newbie, and she cannot boast of having a degree in Math. How could she capitalize on these?
As she maintains, in poker if your behavior is similar to that of others, you'll play just fine, but you'll hardly ever be the best! Accomplished players manage to come up with a unique style and a clear understanding of how other players behave at the poker table.
And knowledge is crucial! Maria took pains to get the hang of the game theory to sustain fierce competition at top poker tables.
As far as the lessons with Seidel went, the writer relates that his hand reviews made the greatest contribution in her poker skillset. In fact, his teaching approach was hard as nails, yet very effective. And despite her mind being excruciatingly overloaded with many nuances at the start, which made her unable to notice many important things simultaneously, she eventually got it all down to a fine art. In this regard, Maria gives credit to Erik's persistence.
Her psychology prowess makes a difference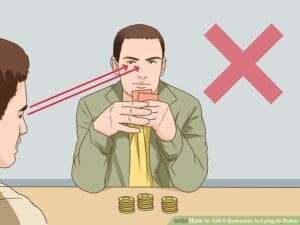 As she narrates, in poker everything revolves around watching how a players' mental and emotional behavior changes over time. Also, it is very important to observe the reaction of others on yourself.
About Maria, the first thing that players spot about her is quite obvious that she's not male. So the question crosses her mind: " What are the stereotypical images of women? Will people play against a woman differently?" You need to put many things in perspective to possess much valuable information.
Another success
After Konnikova's PCA game went great guns, she decided to go off on a tangent and put the writing of her book on the back burner. In fact, this is not a surprising decision, taking into account the fact that the landmark poker event is waiting for her around the corner.  The newly fledged Texas Hold'em champion continues hammering away at the artistry of poker by polishing her newly acquired skill at numerable poker events.
And unbelievably, as it stands, she keeps thriving. Her second impressive victory came close on the heels of her first great success – she took second place in Asia Pacific Tour Macau event and $57,519 in a cash prize.
Skill or chance?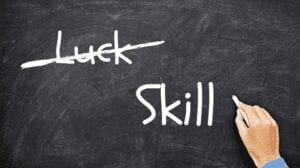 Konnikova has not yet revealed her final verdict on the subject of the skill vs chance effect as her book is on hold. However, she did make quite a curious statement. She said that she was convinced she was lucky at the PCA event,  but her successive victory in Macau made her believe it wasn't really a fluke but rather a skill that got her that far.
Dear reader, WildTornado Casino is sure you could take a page from Maria Konnikova's book. The ingredients that you need to make a killing out of a poker game (or a similar one) are knowledge of the game theory, the very best poker teacher, psychological prowess, passion and determination. Add to it a 9 months deadline and  you're good to imprint your name in the history of poker.
So as we wind up this incredible story, we advise you to keep polishing your game skills at WildTornado Casino. It will be a shame if you don't capitalize on a ton of best poker games. We also host a myriad of slot machines and table games in our portfolio, which you can play on the move as WildTornado is a mobile friendly casino.
Stay with us to be updated on the progress of Maria Konnikova, as well as other events in the world of gambling!
Best of luck!