Are you a fan of X-men series? If the answer is positive, you will be thrilled to learn that in their new creation, Arcane Reel Chaos slot, NetEnt pays homage to the ever-captivating superhero
story. And quite the better news is that the celebrated producer does it with supreme panache!
Archane Reel Chaos Slot Review
The Arcane Reel Chaos slot enables you to tap into 20 paylines equipped with a pack of smashing features.
Right in the main game, expect to be bombarded with a feast of goodies, such as stacked wilds, overlay wilds as well as up to 10x multipliers. Furthermore, the free spins round exposes you to the intriguing 4 level showdown during which good old multipliers (up to 4x) constitute the most aggressive weapon. Find out more in this Archane Reel Chaos slot review.
A Sneak Peek Of The Game
Reel Layout: 5×3
Paylines: 20 paylines
RTP: 96,81%
Max Prize: 1212.5x the wager on a single spin
Bet Limits: min $0.20, max $200
Variance: medium
In-game Features: wilds, wilds in stacks, overlay wilds, multipliers, free spins
Advantages: unsurpassed visuals, abundant features that pay decently in the main game already
Disadvantages: average potential
Release Date: 16 May 2019
Arcane Reel Chaos Slot  – Game Setup, Symbols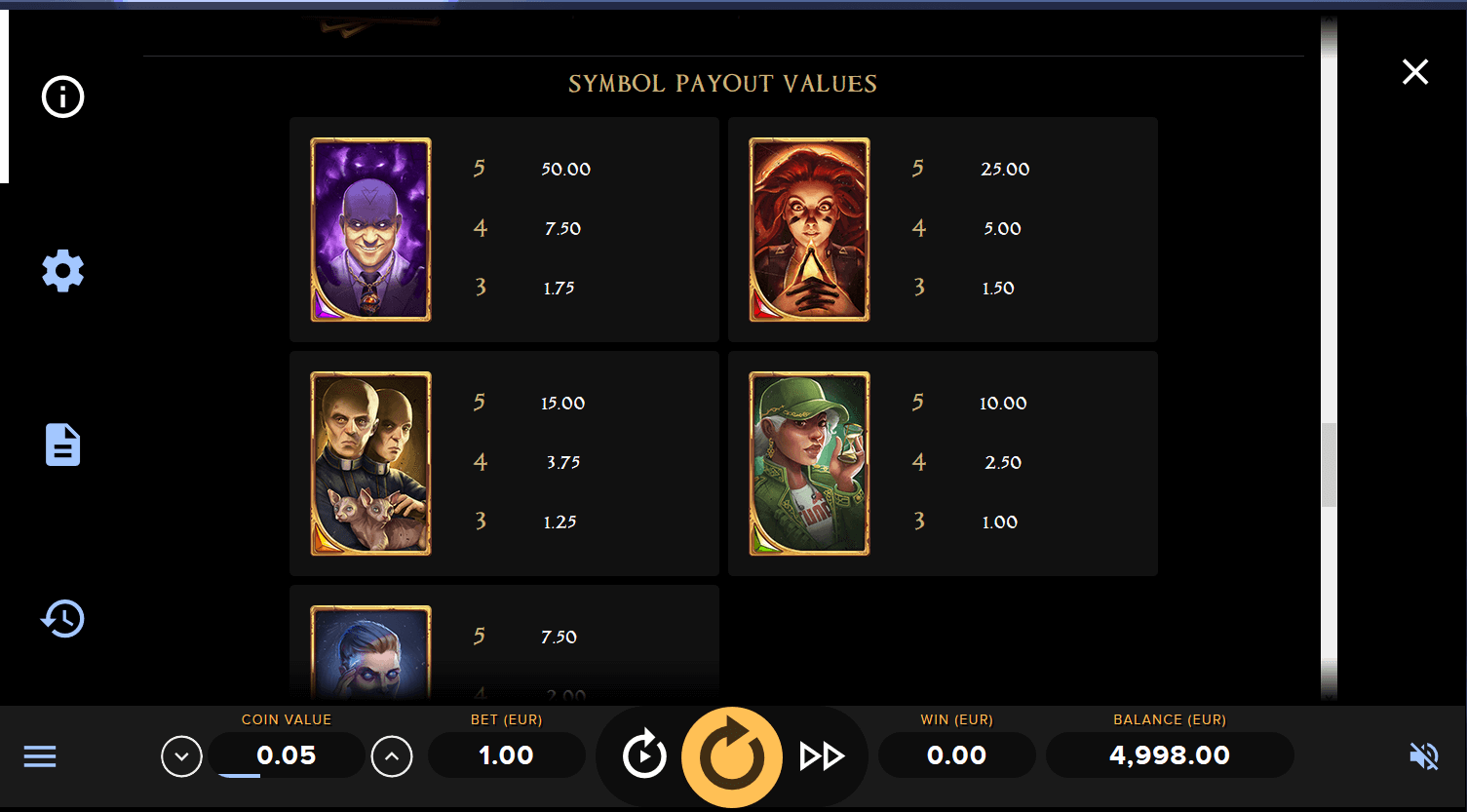 Frankly, we couldn't draw ourselves off the 5×3 reel grid filled with mutants. Why? Simply because NetEnt took the story to the super movie level. The suspense of gameplay keeps you at the very edge of your seat and you cherish the hope that this time, good will conquer evil.
4 superheroes – Flare, Zero.X, Chrono and Psyop – are getting together for a famous battle against Deep Pockets, the despicable mutant villain. Unsurprisingly, the superpowered quartet is determined to prevent the bad guy from destroying the world. And if you are eager to discover your own superpower, the mutants are waiting for you to join them! Do your best to obliterate the evil nemesis from the face of the Earth to be generously rewarded – a 1 212.5x your wager prize is at stake.
The derelict cathedral was chosen as a setting for the arcane battle. It's already dark and mutants are warming themselves up before the main showdown comes into play. From the look of things, Deep Pockets' tricks are unsurpassed. They pack the biggest punch in the shape of a 50x your bet win should 5 villain symbols come your way.
Also, there are wilds and scatters on offer.
Arcane Reel Chaos Slot – Features
Main game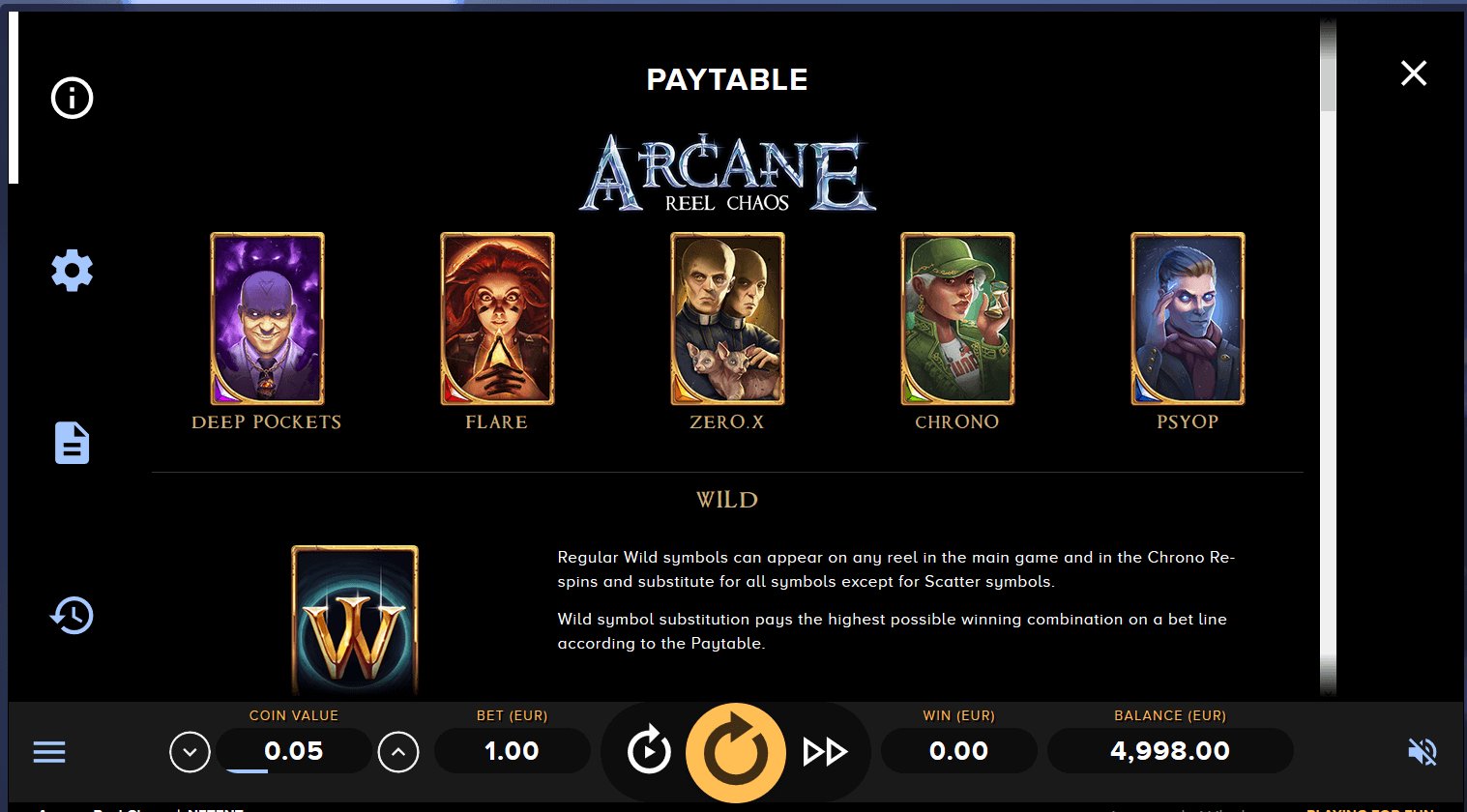 The main game kicks off and it means that it's time for the superheroes to bring their superpowers to the table. This feature springs to life in a random fashion and the bonuses vary depending on which of the heroes popped up to show off his/her power:
Multipliers Superpower from Flare: expect to see your cash wins multiplied by 3x, 4x or even 4x

Overlay Wilds Superpower from Zero.X: 3-5 wilds take places of randomly chosen symbols on the reels

Respins Superpower from Chrono: turns up after a losing spin only. The reels go on a respinning spree which lasts until a winning combo is achieved. A multiplier goes up by 1 with every single respin meaning you can lay your hands on a 10x multiplier. Chrono's  Superpower holds the biggest appeal in Arcade Reel Chaos slot as it awards a prize of 1 212.5x your wager!

Stacked Wilds Superpower from Psyop: 2-3 reels are filled with wilds in stacks.
Free Spins Round
3 scatters provide you with the ticket to the most exciting showdown you have ever observed in a slot game. Make your way through 4 different levels, with each level having both its challenges and its rewards:
Level 1 – Deep Pockets' health is not at its best (2 points), the reward is not impressive either: wins are multiplied by 1x
Level 2 –  Deep Pockets' health improves (4 points), so does the reward: wins are multiplied by 2x
Level 3 –  Deep Pockets' health gets quite strong (5 points), the reward becomes quite good: wins are multiplied by 3x
Level 4 –  Deep Pockets' health is at its best (6 points), so does the reward: wins are multiplied by 4x
You are entitled to a Victory Bonus provided you complete all the levels of the furious battle.
Arcane Reel Chaos Slot – Our Ultimate Verdict
Arcane Reel Chaos is the game that will definitely find a way to the hearts of fun-loving players. With an exciting story to tell and stunning visuals to enhance the power of the creative narrative, the slot makes sure you are in for a decent treat. Moreover, this treat appears to be at every corner due to the well-balanced gameplay the slot is imbued with. So expect to reap sweet rewards from the free spins round and the base game alike.
Each of the base game superpower features is worth about 500x your stake, except for the one represented by Chrono. This super lady bestows the biggest possible gift in this game – 1 212.5x your wager.
All in all, another stellar slot from NetEnt makes our hearts beat faster and we do recommend that you give it a whirl!
WildTornado Casino is ready to disclose its own superpower to you. We provide our players with a supreme level of gambling entertainment. So whatever gambling aspiration you have in mind, we promise to have it covered!

Simply feast your eyes on our stellar games collection and do not forget to play the delicious Arcane Reel Chaos slot at the WildTornado casino.
Play slots online for free or for real money right now!