Historians fairly regard Leonardo da Vinci as the most imaginative, versatile and gifted individual throughout all the ages of human existence. We know him best as the inventor of the parachute and the helicopter, as well as the creator of the most recognized painting in the world – Mona
Lisa. Unsurprisingly, due to his unprecedented skillset, people tend to assign him to the rank of a superhuman being.
With that being said, you can imagine the scale of tribute his name deserves to get in a slot game that features his name, should an audacious gaming provider attempt to create one!
And here we go – Pragmatic dared to pay homage to this legendary Italian erudite in John Hunter and the Secrets of Da Vinci's Treasure – their latest slot game.
So let's see whether their slot is worth such a creative name or if it fails to live up to the grandeur of the character it dared to shelter.
Theme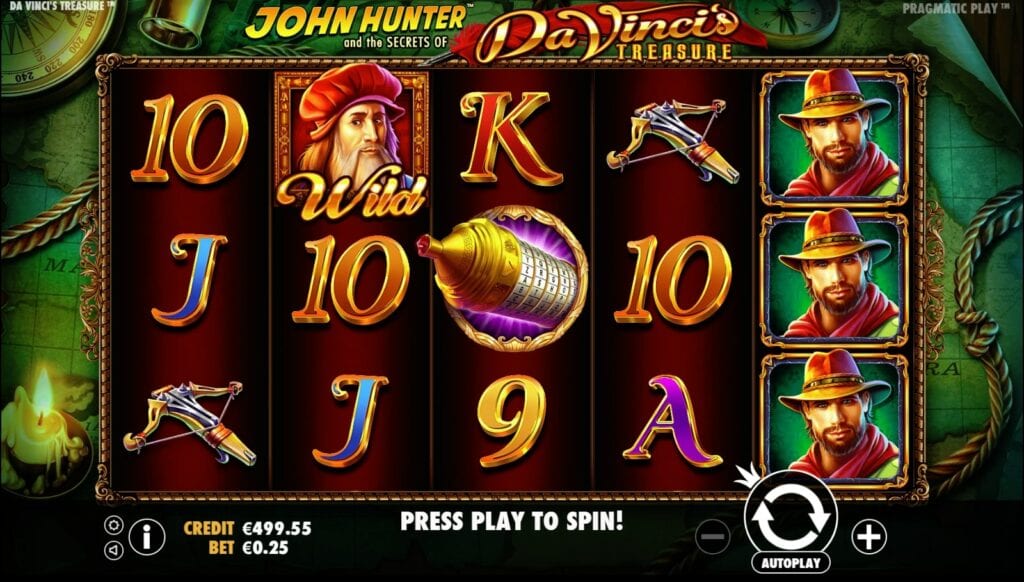 The Secrets of Da Vinci's Treasure slot has quite a conventional reel layout with a 5×3 grid and 25 paylines to take advantage of. We are okay with this, but what we are not really satisfied with is the approach the designers adopted to depict the theme.
Pragmatic's Secrets of Da Vinci's Treasure slot does not appear to really stand out as far as the design approach is concerned. In other words, it's certainly not the most lousy-looking slot game, yet it fails to impress players, who in the 21st century, are rather spoiled for game graphics! In fact, what you can expect to see are the bright multicolored symbols heavily rimmed in gold, standing out on the dark red reels. In the background, the candlelight and the compass help the explorer trace the paths to the treasures  – a huge map is rolled all over the table.
Symbols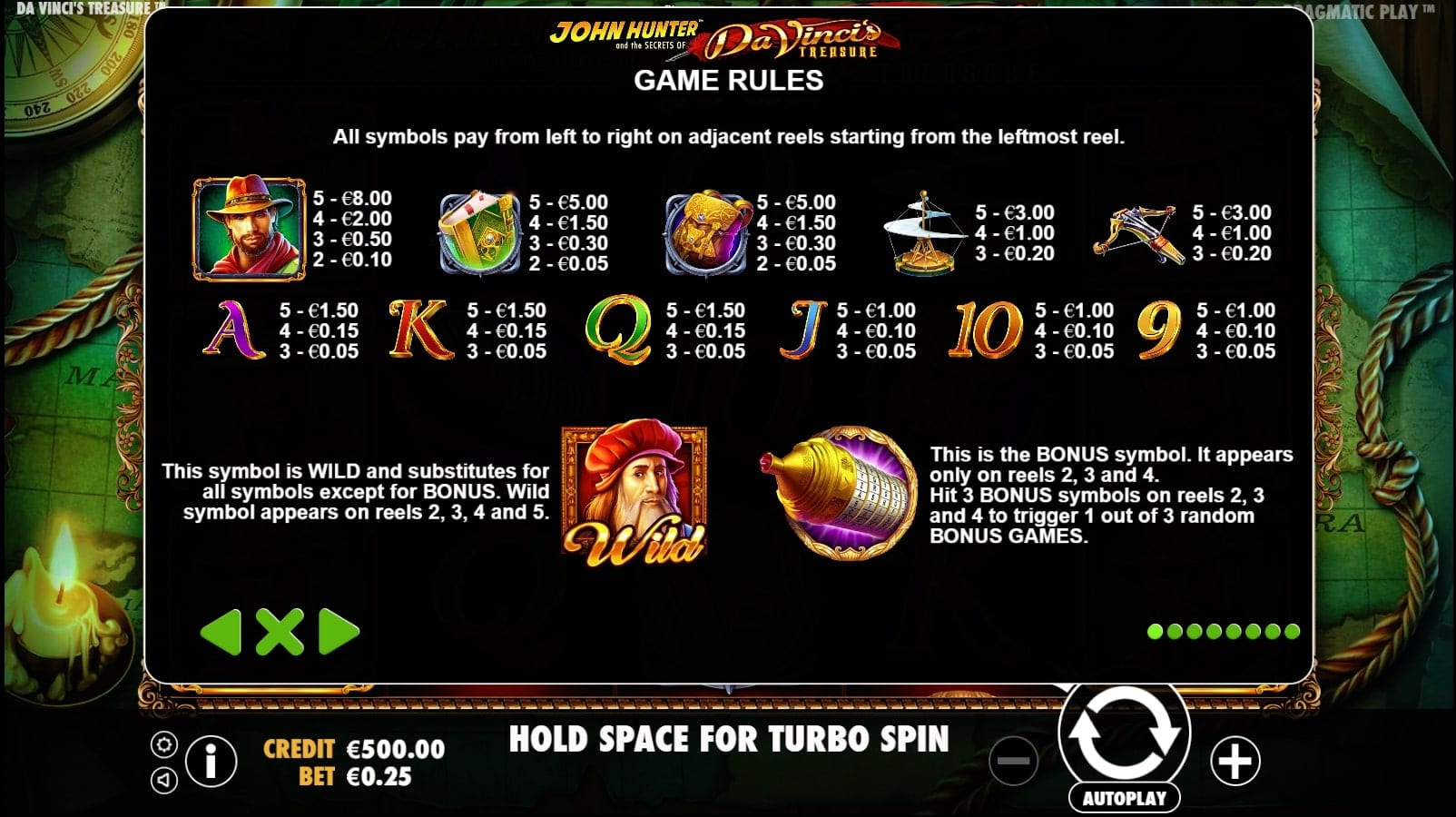 On the subject of symbols, John Hunter, a big green book and a sophisticated golden backpack, constitute the most lucrative symbols. For instance, 5 symbols of handsome John Hunter are worth 32x the bet. Further to this, you will stumble upon less precious items in the game which include an arbalest and a prototype of Leonardo's helicopter. Card suites are the least handsome elements in the game in terms of their low value.
A wild is represented by Da Vinci himself and it makes its presence only on all the reels, apart from reel 1.
Features
The game gives players a chance to unlock 3 bonuses. In all honesty, of all the 3 bonuses, there is only one that profoundly excites us. We are speaking of a progressive multiplier free spins bonus – a bona fide asset to this game. The reason for this is that this bonus, in its potential, features the closest match to the Da Vinci's boundless abilities. The other two bonus features are a map quest and a prize picker which seem to represent some sort of embellishment. This is still not a bad idea as it adds a bit of action to the game.
Free Spins With a Progressive Multiplier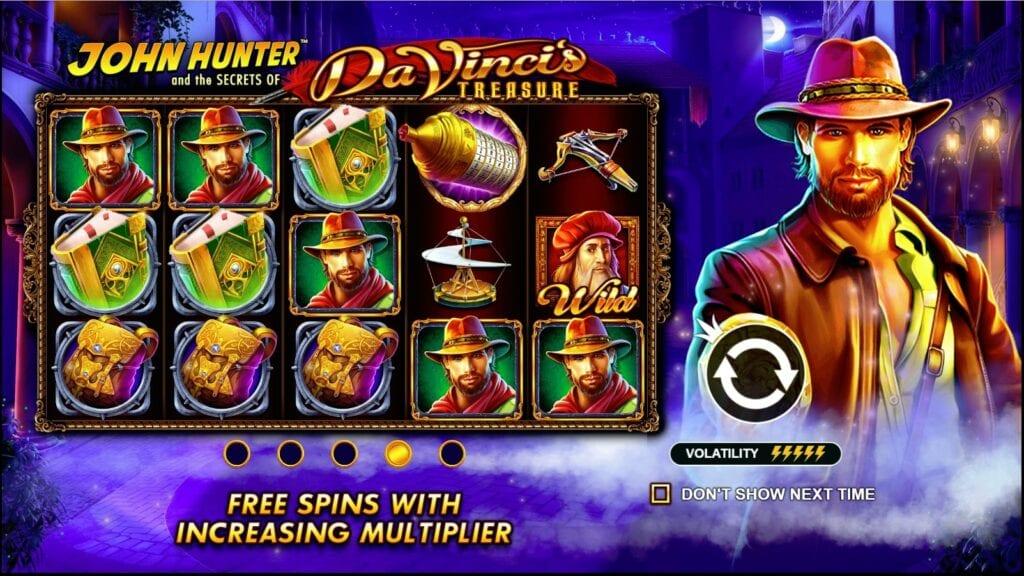 How to unlock free spins game with a progressive multiplier? In the game, they left it up to complete chance. If you land 3 scatters (symbols of a canister) in any position on reel 2, 3 and 4, one of the three aforementioned bonus features is triggered in a random fashion. This is when you should say a prayer so that you'll unlock the progressive multiplier free spins bonus.
If your prayer is answered, you are treated to 12 free spins. And what is absolutely delightful about the free spins bonus is that on every free spin a multiplier mushrooms by 1. It translates into a 12x multiplier on the last reel spinning. What's more, the feature can be re-triggered, which adds up to a potential 60 freebies, with a 60x multiplier. Should these numbers become your thrilling reality, your payout can be as grand as a name of the slot itself – 48,000 the wager!
Betting, RTP and Payout
Secrets of Da Vinci's Treasure allows you to wager a low of $0,25 per spin and go as high as $125. It's also worth noting that by choosing to play this slot, you expose yourself to high risks, yet potentially high payouts. In other words, the volatility of this slot is regarded as draconian. And then it's good to know that the RTP the slot is equipped with is a handsome 96.53% – a good reason to invest in it.
Verdict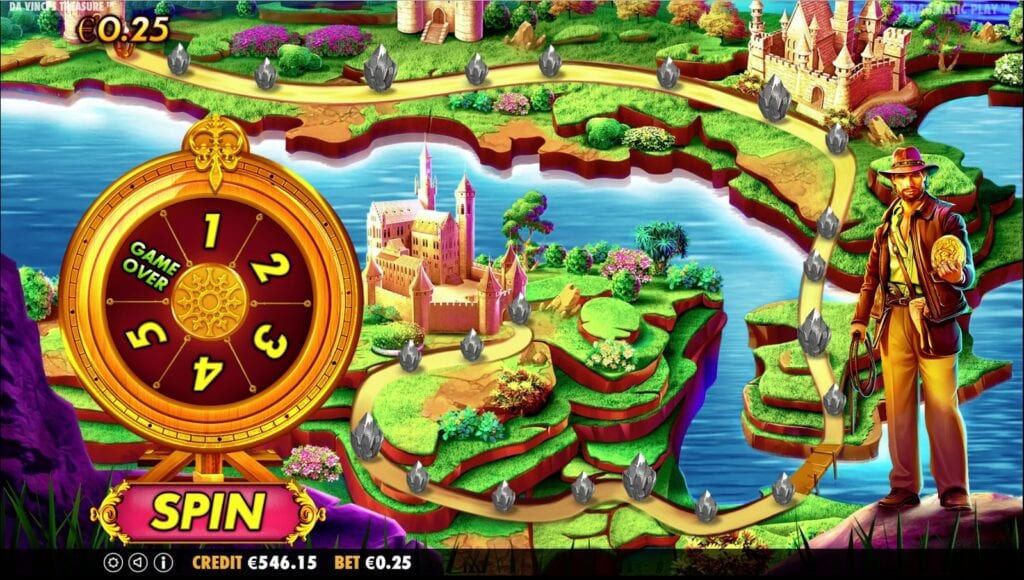 Secrets of Da Vinci's Treasure entices us into its mysterious historical thickets with its sky-high potential. This potential can be unlocked by a free spins session, which – in all honesty – is exceptionally fun and intriguing. The bottom line is that Pragmatic dug deep into some of their ingenuity reserves to exhume a twist to their bonus game! We liked it the most! On the downside, a visual part of the slot leaves much to be desired. But this is the sort of game where appearances are not all what matters! The design flaws are offset by its hugely rewarding features.
At WildTornado, we are strong advocates of novelty, evolvement and fresh ideas. In other words, we fuel one of the latest slot games each week with a generous BONUS of up to 200 free spins! All you've got to do is sign up at WildTornado and be on the lookout for Thursdays – the time when the bonus in question kicks off.
By the way, this week's Thursday specialty is Secrets of Da Vinci's Treasure. You're welcome to get your bonus and enjoy this latest slot game for 3 fun days!
Get back to know more of the latest worthy games!
And good luck!